Today....I've been baking and roping in my boyfriend to take photos! Recipe and photos below! :)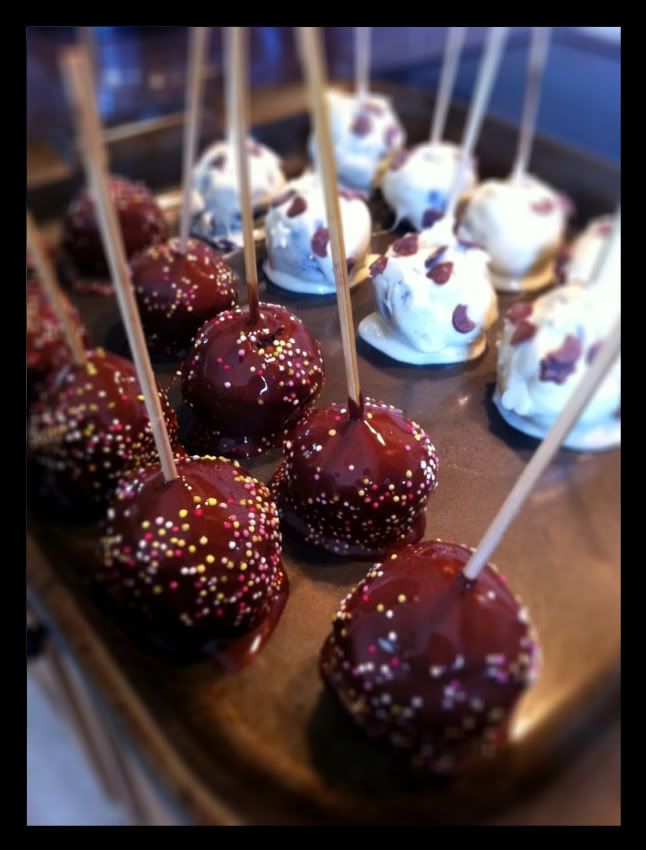 These are a new craze seemingly sweeping the nation. (I've seen them in Starbucks)
Cake pops!
They are REALLY easy to make, I'll show you the recipe that I used below but you can use any sponge mix you wish.
You will need:
115g dark chocolate (at least 70% cocoa solids)
85g unsalted butter (at room temp)
175g soft light brown sugar
2 large free range eggs (separated)
185g plain flour (sieved)
3/4 tsp Bicarb
3/4 tsp baking powder
pinch of salt
250ml milk (at room temp)
1 tsp good quality vanilla extract
1 Tub Betty Crocker Chocolate frosting
Enough white/milk/dark choc (your choice) to coat the cake pops
bamboo skewers (in half sharp edges removed!)
Pretty sprinkles and decorations, go crazy!
OK. So first of all melt the 115g dark chocolate either in the microwave (dont burn it because it will take MINGING) or in a bain marie then set aside to cool a little. Cream the butter and sugar together in a large bowl, till pale and smooth, this should take a few mins with an electric hand mixer/whisk and its MUCH easier! Whisk the egg yolks with clean whisks for a few mins and add to the creamed mixture, beat for a bit. Add the melted chocolate and beat again.
Next add the bicarb, baking powder and salt to the flour and sieve a third into the chocolate mixture, beat in. Add the vanilla extract to the 250mls of milk and add a third of this to to chocolate mixture and beat. Continue to do this until you have added all the flour and milk to the chocolate mixture.
Whisk the egg whites in a clean bowl with clean hand whisk paddles until stiff peaks start to form. (don't over-whisk) Tip the bowl over your head if you dare!!
Carefully fold the whisked egg white into the chocolate mixture with a metal spoon. Do not beat because you will knock all the air out the mixture.
YAY! now its all combined you can either turn these into cupcakes or you can shove the mixture into any baking tins you may have, I used 2 victoria sponge tins. (its best to use 2 or more tins because you want the mixture to cook right through) Make sure you grease the tins though!
Place the tins on the top shelf of a pre-heated oven at 160 degrees c (fan oven) for about 20-30 mins, or until when pressed, the top is relatively firm to touch and there is no gooey mixture when u pull a skewer out the middle. You can wash up while you wait if you're obsessive compulsive like me!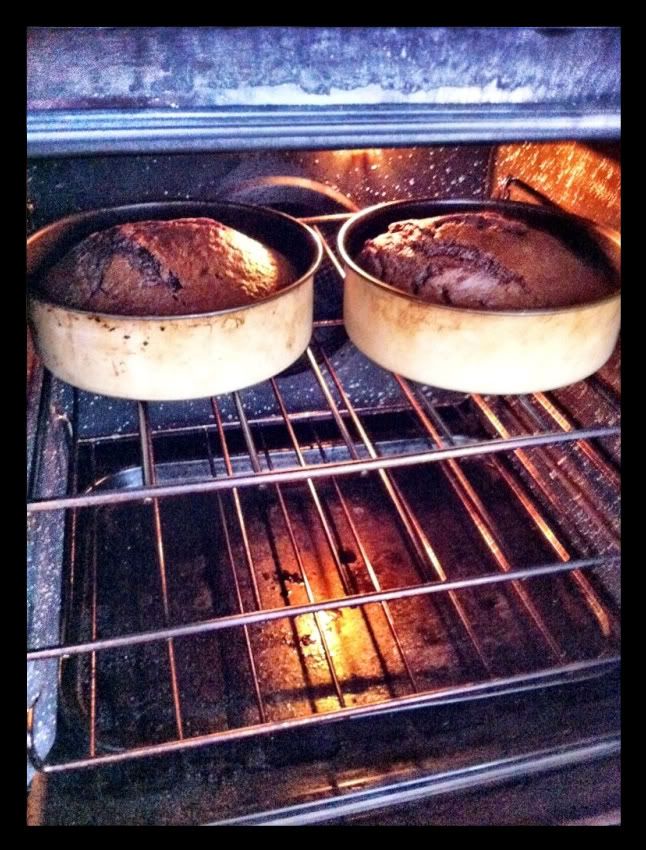 Looking good. Now take the tins out and turn out the cakes onto a wire cooling rack and leave for a bit before breaking them up. Once cooled start to mush the cakes up in a large bowl and also get your different chocolate bits into bowls ready to melt.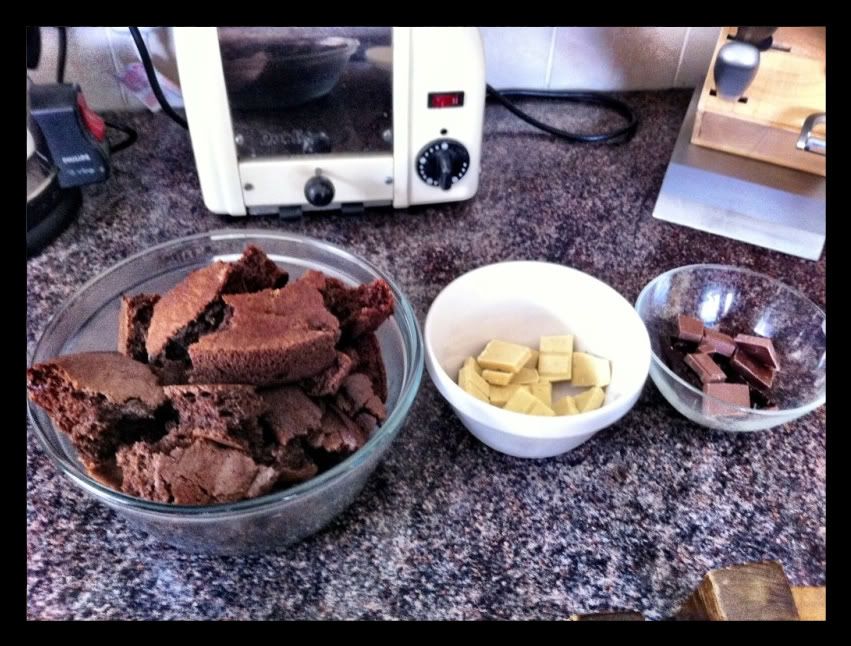 I used white chocolate and a mixture of left over dark and milk chocolate. (all Green & Blacks)
To the now really broken up chocolate cake add about 1/2 tub Betty Crocker choc frosting.....time to get your hands dirty! Get in there and mush it up!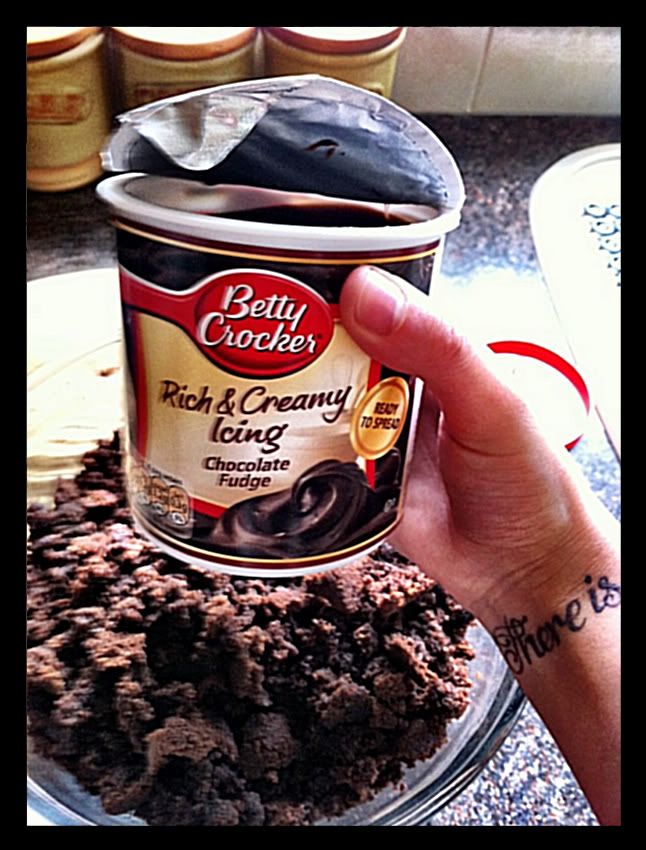 You should now have a mixture gooey enough to roll into balls, golf ball sized like this.
Make as many or few as you like and place on a large plate or tray. Take your clean, halved bamboo skewers and dip the ends into the one of the (now melted) chocolates, stick in into the ball, this acts as a glue to hold the stick in place, you will need to allow this too cool and harden before you begin dipping the balls into the chocolates.
Once cooled you can now begin the fun part! Dip the cake balls in the chocolate but be careful not to dislodge the stick. I found it easier to use a small spoon to move the chocolate over the cake to make it even, place on a tray or plate and add your decorations! When you've dipped and decorated place the tray of yummies in the fridge to cool. (you will probably need to removed them with a pallet knife afterwards, mine stuck hard!)
ENJOY!
I've included some pics of me and my outfit today (we went to pizza hut so I had to haul myself out of my slouchies!) My cake pops make an appearance and so did my GORGEOUS kitten bits, Oliver :)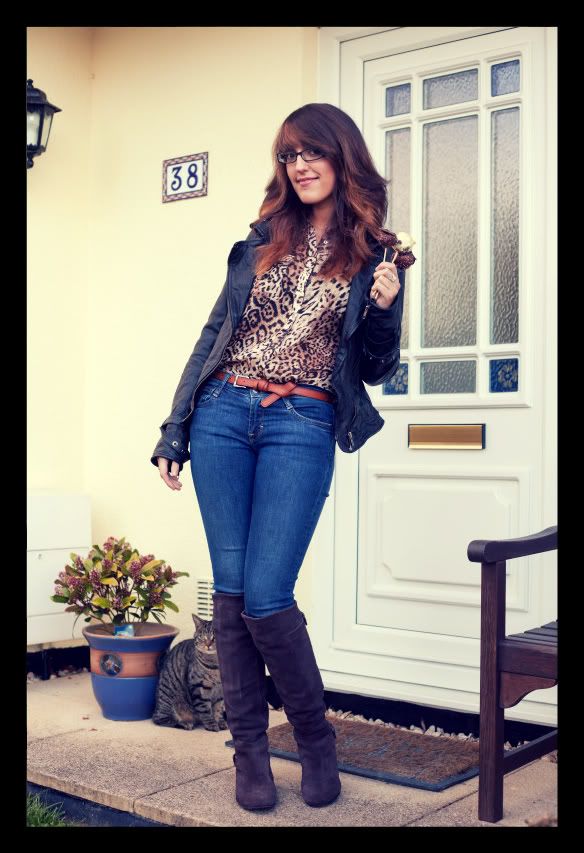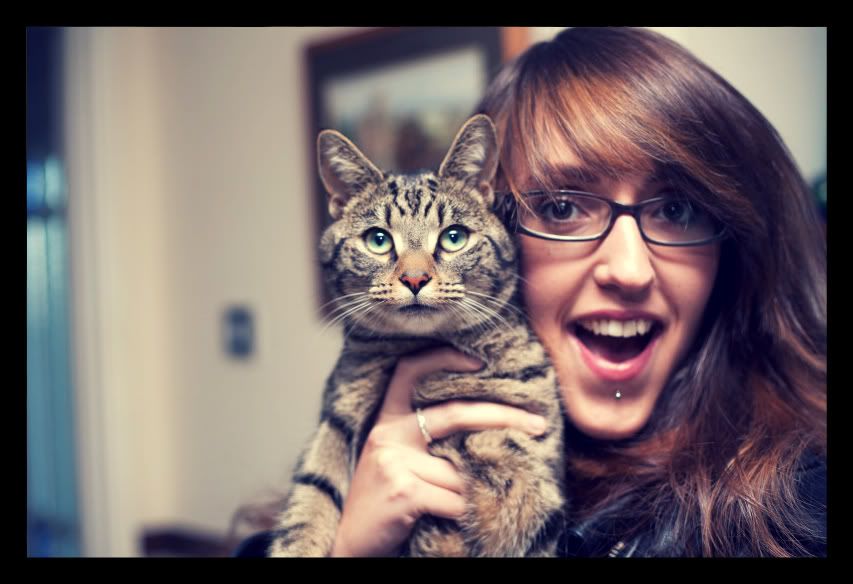 Leopard print shirt - Zara
Leather Jacket - Muubaa
Jeans - French Connection
Boots - Joie
Belt - River Island
Thanks for reading! I've literally spend HOURS on this post due to photobucket being lame. I hope that someone reads it :(
Night Night x